"A Little Bit About Us..."

A BRIEF SUMMARY OF OUR MINISTRY HERE IN CEBU
* Clearlight Ministries is a nondenominational missionary outreach to the local churches and the unreached and unsaved in the Philippines. We work mostly with local churches and hold weekly Bible studies in various venues within the city. These Bible studies are designed to help each person come to a clear knowledge and understanding of salvation and discipleship: What it means to be a victorious Christian.
* Part of our ministry is writing, printing, and distributing Gospel literature and teaching materials in both English and Cebuano. We provide these tracts, pamphlets, and booklets FREE OF CHARGE to all local churches and interested ministries.
* We have conducted numerous feeding-programs for the indigenous poor, mostly in the squatter areas of Caretta, North Reclaimation Area, Cebu City. This includes child-evangelism and Bible-studies for the families of the children.
* We have provided a TV, VCR, cabinet, and videos to the government hospitals here in Cebu [Cebu City Medical Center and Southern Island Hospital]. This is for the use of all local churches and the hospital chaplains which have an outreach to the poor and needy in these hospitals.
* We also distribute for free certain DVD's that emphasis the need for REVIVAL in the local churches. Particularly the public domain DVD titled, "THE REVIVAL HYMN," which is a compilation of the best prophetic voices from the 20th Century on the need and necessity of TRUE REVIVAL in communities and churches.
* We also minister and preach from time to time at various local churches within Cebu Province. Mostly we are here to assist and support the Gospel churches within the Central Philippine islands, including house churches and home-church fellowships.
* The other aspect of our ministry and calling is MUCH PRAYER and INTERCESSION for Cebu, the Philippines, America, Israel, and the nations. We consider it our solemn duty and calling to lift these and many other needs to The Throne of Grace. NOTHING of value happens unless it is truly bathed IN PRAYER before GOD.
2) Fear* and Reverance for GOD & His Laws, Principles, and Decrees.
3) LOYALTY & ALLEGIANCE TO THE KING: to Government & Authority.
(As long as the government does not clearly violate the Moral Authority of GOD and His over-riding Principles.)
4) KINDNESS & MERCY - *coupled with* wisdom, discernment, and love for Truth.
5) GRACE for the oppressed and the (truly) repentant.
6) KNOW what is subject to change ... and what is not. And always act accordingly.
7) HUMILITY that never inflates or exalts "self" - but always highly esteems and honors GOD
- The King and Ruler and Judge of all.
And then add to this: fearlessness ... fearing only GOD: which is always true courage and true wisdom combined.
REMEMBER always Who & What GOD IS ... and that you are nothing apart from HIS Life and Good Grace.
GOD Is The Supreme Being ... and The Moral Center of the Universe.
Morality *always* involves and revolves around *right relationships*.
Wisdom has built her house;
she has carved out its seven pillars.
~ Proverbs 9:1 [NLT] ~
~~~~~~~~~~~~~~~~~~~~~~~~~~~~~~
1) Who may worship in Your sanctuary, Lord YahOvah?
Who may enter Your Presence on Your holy hill?
2) Those who lead blameless lives and do what is right,
speaking the truth from sincere hearts. [1]
3) Those who refuse to gossip
or harm their neighbors
or speak evil of their friends. [2]
4) Those who despise flagrant sinners, [3]
and honor the faithful followers of the Lord, [4]
and keep their promises even when it hurts. [5]
5) Those who lend money without charging interest, [6]
and who cannot be bribed to lie about [or take advantage of] the innocent. [7]
Such people will stand firm forever.
~ Psalm 15 [NLT]
---
A BRIEF SUMMATION OF THE MORAL MESSAGE OF THE BIBLE
1) Do good and pursue wisdom and excellence in all things.
2) Love and reverance GOD, - The Creator, the Sustainer, and the Moral Center of the Universe, - above all else.
3) Remember mercy, goodness, charity, compassion, and justice.
4) Help the poor, the underprivileged, and the needy whenever possible.
5) Avoid all evil, lust, violence, hate, and greed. Avoid even *the appearance* of evil.
6) Speak the Truth of God's Word with Love.
7) Love the LORD thy GOD with all your mind, heart, soul, and strength.
8) Love your neighbor as yourself. Treat others as you would like them to treat you.
*YOU MUST FORGIVE to be forgiven.* ~ Matthew 6:12-15 ~
9) The whole world lies in deception and spiritual darkness - seperated from God and in rebellion against God.
Thus: seperate yourself from sin and the world; seperate yourself UNTO God.
10) And finally: Ecclesiastes 12:13,14 . . .
"Let us hear the conclusion of the whole matter:"
---
THE GOSPEL: ~ A BRIEF AND CLEAR SUMMATION . . .
1) you cannot save yourself. you are separated from God
and guilty of many sins against God. your very nature is fallen, rebellious, and offensive to God.
2) God Himself has made a full provision to rescue you from an otherwise hopeless situation. God became a man in the person of His Son, the Lord Jesus Christ, Who Is the Eternal Word; He vicariously lived a perfect life and died an atoning death on your behalf...PROVIDED you receive this great gift by faith, trust, and with humility and a repentant willing-heart.
"Truly, truly I say unto you,
UNLESS you humble your heart,
and receive the Kingdom of GOD within you...
you shall IN NO WAY ENTER there in."
~ Jesus of Nazareth ~
3) God has given His Son to save us; He also offers to us the Holy Spirit to sanctify and seal us. * We are born of God's Spirit when we willingly repent and receive Jesus as Savior and Lord.* - THEN we receive a new nature, - a new heart, - which is reflected in NEW DESIRES to obey God and honor Him above all. ~ Thus, our PRIMARY allegiance and priority in life is to serve and honor the Lord Jesus Christ NO MATTER WHAT HAPPENS and NO MATTER WHAT comes our way.
4) Only those who receive Christ shall enter God's Kingdom;
those *who reject* Him will pay for their own sins; thus will all guilt will be imputed to *them* and not to Christ.
5) SALVATION is ENTIRELY A GIFT OF GRACE and mercy IN CHRIST. No one can earn it; it is THE GIFT OF GOD given to the repentant heart who truly "calls upon the name of the LORD [Jesus Christ]" to grant them mercy and forgiveness. As the Scripture so clearly says, "you MUST be born-again!"
Please see these Scriptures:
2 Corinthians 5:17-21; John 3:2-8,36;
Acts 2:37-40; and Isaiah 55:6,7.
Apologetics
---
Books, Poems, & Reviews
THE HEART of The Gospel . . .
---
~ UNTO THE UTTERMOST ~
The Maker of the Universe
As Man, for man, was made a curse.
The demands of Law which HE had made:
UNTO THE UTTERMOST HE PAID.

His holy fingers made the bough
Which grew the thorns that crowned His brow.

The nails that pierced His hands were mined
In secret places HE designed.

He made the forest whence there sprung
The tree on which His body hung.
He died upon a cross of wood,
Yet made the hill on which it stood.

The sky that darkened o'er His head
BY HIM above the earth was spread.

The sun that hid from Him its face
BY HIS DECREE was poised in space.

The spear which spilled His precious blood
was tempered by the fires of God.
The grave in which His form was laid,
was hewn from rocks His hands had made.

The throne on which He now appears

Was His from everlasting years,
And now new glory crowns His brow:
And EVERY knee

To Him
Shall bow.

~ A.Brandon Bonar ~


---
~ This next poem, as far as my view is concerned, is the greatest poem ever written on the awesome sacrifice and atonement of our Lord Jesus Christ for the sins of the world.
~ I can never read this poem without something stirring very deep within my soul, and tears welling in my eyes.
~ It describes a certain agony beyond words . . .
~ It is entitled . . .
---
~ THE DESPAIR OF CHRIST ~
"...He Who knew no sin..."

~ 2 Cor.5:21 ~
This, the whip clawing his back,

gnawing his flesh. This we have known.

Many have been so reviled.
And the thorns gouging his brow.
Yes.
The nails like flaming bolts
through the soft places. Yes, even this.
And the gambling, the nakedness, the shame,
the scorn, the mockery, the hatred.
Yes, even this many have known
and tasted thereof in the bitterest draught.

But that Father-darkness, - the sudden clap
of infinite night; that blackness heaving
its hulk against the heart of Christ.
No.
That Father-silence: a night forest gone suddenly
quiet with doom;
every anguished plea, every thought thudding
hard against towering stone.
No.

That Father-anger: black, silent flames
searing through to the marrow;
the breath of a grizzly just before the bite.
No.
And that Son-cry: an anguished voice calling
distantly through the storm;
the Beloved in the furnace, reaching, reaching
with all His strength, yet falling... falling...
the pure white dove tumbles before the buckshot;

the Lamb strains helpless as the knife begins its slash:
"MY GOD, MY GOD! Why hast Thou forsaken me!"

No. Never. No man has known this.

Thanks be unto GOD, because of Him we need never know it.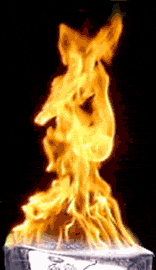 The Holiness of HaShem Adonai is both a Fire of
Love, ... and a Consuming Fire. - Which one you
get is a matter of the CHOICES you make and thus
the REALITY of the person you become.
***********************************************
In Reality, TRUTH is not just a matter of YOUR
choices, but what GOD chooses to reveal to you
for His own good reasons and in His own good time.
*************************************************
TRUTH is something you DO.
TRUTH is something you are (in the sight of GOD).
TRUTH is A Person. I wonder if you've ever
truly come to know Him.? . . . Reach out. - His
Hands are already extended . . .
==================================
~~~ GRACE ~~~
Multiply the innocence on the face
of your favorite child
times infinity.
Surround it with darkness,
cruel jealousy and sin.
Now look to Golgotha: Behold
the face of the purest heart
ever beheld by angels or men,
bloodied and battered,
spat upon and cursed,
and crying . . .
"Father! forgive them...
Father! forgive them...
I offer my self
in their place,
for their soul.
Forgive them."

Cf. Isaiah 53. Psalms 22 & 88. Matthew 27:33-54.

Luke 23:32-44. John 18:4-11; 19:29-37.
A GLIMPSE OF GOLGOTHA . . .
Standing near the hill I shivered at the sight of his limp figure
silhouetted against this strange mid-day night. And the scene still haunts me. But it was more than the bloody crown of thorns, the bruised and tortured body; yea, even more than the mockery of a scornful and railing mob; but it was the sense of his utter aloneness
there that pressed hot against my weeping soul...I looked again and
there He was, - this awful sight, - and it was Jesus: Royal, Holy, Pure, - the Lamb without spot or blemish, - and He was ALONE. Totally,completely, unequivocally alone.....

and I saw it was for me,
- it was for me! . . .
~~~~~~~~~~~~~~~~
~~~~~ THE TEST ~~~~~
Please forgo the parade and charade of excuses.
He already KNOWS the Whole Truth
(So let's get honest):
What you need is forgiveness.
What you need is a new heart.
What you need is a Savior.
What you need is a fresh start.

The payment for sin, - for insulting and forgetting GOD, - is high.
Very high.
You can pay it yourself
(and will)
If you turn away Him
Who was willing
to pay it Himself.
IT IS GRACE. Mercy, Grace, and Love.
You cannot earn it. (It is given).
RECEIVE IT
with humility and eternal thanksgiveing.
He will forgive the honest heart
that turns to Him with empty hands, saying,
"I receive, I am not worthy, but I receive and turn to Thee."

For a truth: Jesus suffered for YOUR sins,
How can your heart NOT break?
THIS is THE TEST
from a Supremely Wise GOD.
POSTSCRIPT:
"The Cross of Christ is truly God's last and endless Word. There the
Prince of this world is judged, there sin is killed, and pride
and self-righteousness is done to death, there lust is frozen, and
self-interest slaughtered, NOT ONE CAN GET THROUGH..."

--- Oswald Chambers

The Altar Near the Throne
and some final thoughts . . .
"Change cannot be made to happen. It must come about. A rose bud cannot be forced to open. It must bloom at its appointed time."
"Each time someone stands up for an ideal, or acts to improve the lot of others, or strikes out against injustice, he sends forth a tiny ripple of hope. "
- Robert F. Kennedy
"Only when the last tree has died, and the last river has been poisoned, and the last fish has been caught will we realize we cannot eat money." - Chief Seattle, native american
"One must allow others to be right. It consoles them for not being anything else."
--Andre Gide
Music is a higher revelation than all wisdom and philosophy. Music is the electrical soil in which the spirit lives, thinks and creates.
----Ludvig van Beethoven
- PERSEVERE, DO NOT ONLY PRACTICE YOUR ART, BUT ENDEAVOR ALSO TO FATHOM ITS INNER MEANING; IT DESERVES THIS EFFORT. FOR ONLY ART AND SCIENCE CAN RAISE MEN TO THE LEVEL OF NEAR DIVINITY.
- Beethoven.
"True friends stab you in the front." - Oscar Wilde
"Never explain yourself. Your friends won't need it and your enemies won't believe it." - Belgicia Howell
"Evidence of cloning can already be found among teenage girls." - the old and smiling wise-one
Don't find fault, find a remedy.
"Since the dawn of time man understands that suffering, faced with no fear, is his passport to freedom." - the old and very wise-one
=========================================
"Out of damp and gloomy days, out of solitude, out of loveless words directed at us, conclusions grow up in us like fungus: one morning they are there, we know not how, and they gaze upon us, morose and gray. Woe to the thinker who is not the gardener but only the soil of the plants that grow in him." - from, THE OVERCOMING LIFE
======================================================
The aspects of things that are most important to us are hidden because of their simplicity and familiarity.
~ Prof. Ludwig Wittgenstein
"Courage is what it takes to stand up and speak; courage is also what it takes to sit down and listen. " Winston Churchill
Doing nothing is better than being busy doing nothing.
~ the wise-one
"We make a living by what we get; we make a life by what we give."
~ Winston Churchill
"During my long life, I have learned one lesson: that the most important thing is to realize why one is alive--and I think that it is not only to build bridges or tall buildings or make money, but to do something really important, to do something for humanity, to bring joy, hope, to make life richer for the spirit because you have been alive, that is the most important thing." ~ Artur Rubinstein
"Learn from the past, work on the present, plan on the future"
"Love is not love
Which alters when it alteration finds,
Nor bends with the remover to remove:
O no! it is an ever-fixed mark
That looks on tempests and is never shaken"
- William Shakespeare the Great
He who binds himself to joy does the winged life destroy
But he who kisses the joy as it flies lives in eternity's sunrise...
~William Blake
Whatever you can do or dream, you can begin it...
Boldness has genius, power, heroics and greatness in it...
~ Johanne Wolfgang Von Goethe
And posted by

Len Hummel

on Tuesday, January 30, 2007
... My Definition of GOD:
"GOD IS THE MORAL CENTER OF THE UNIVERSE. He is most perfectly defined (and seen) as "SACRIFICIAL LOVE." ... and JUSTICE, and RIGHTEOUSNESS tempered perfectly by mercy and grace to those whose heart is found deserving of such. {ie/ the humble, the repentant, the HONEST-heart}. GOD IS The Only Truly and Fully FREE-Being in the Universe: FREE to always do that which is Right and Perfect. - anything less than this would NOT be GOD. - KNOW, therefore, that the whole purpose of our lives is to learn, permanently, to walk in oneness with HIS ways and be at liberty TO RECEIVE HIS blessing." ~ LCH